Fat tire bikes have been becoming increasingly more popular as of late due to their versatility. These bikes can be ridden on places you've never biked on before, such as on sand and snow. Their 4 inch tires are wide enough to float on sand or snow (with the right PSI) where other bikes would just sink through. Add an e-bike conversion kit and you'll be cruising further until the battery runs out – I guarantee it. The wider tires also provide added comfort. For comparison, I tried riding my 2018 Northrock XC00 fat tire, GenZe e101 hybrid e-bike (w/ no suspension), and a Specialized Hardrock (hardtail with 80mm front suspension) at Bommer Ridge trail in Irvine. Bommer Ridge is considered an "easy" route on MTBProject.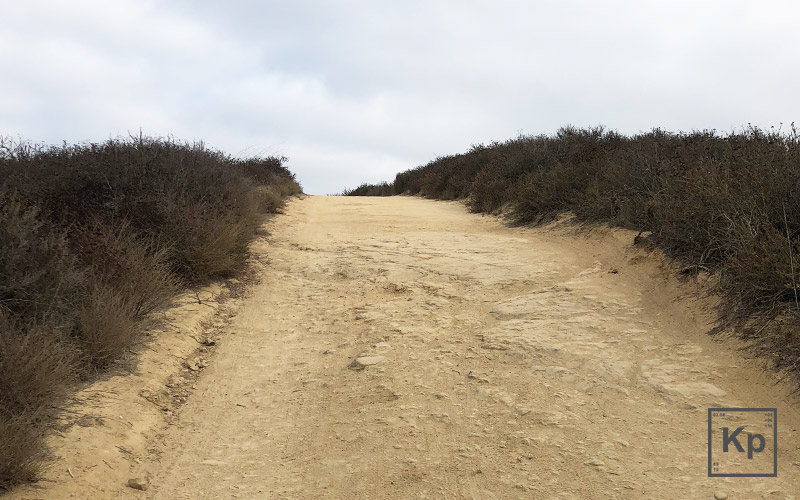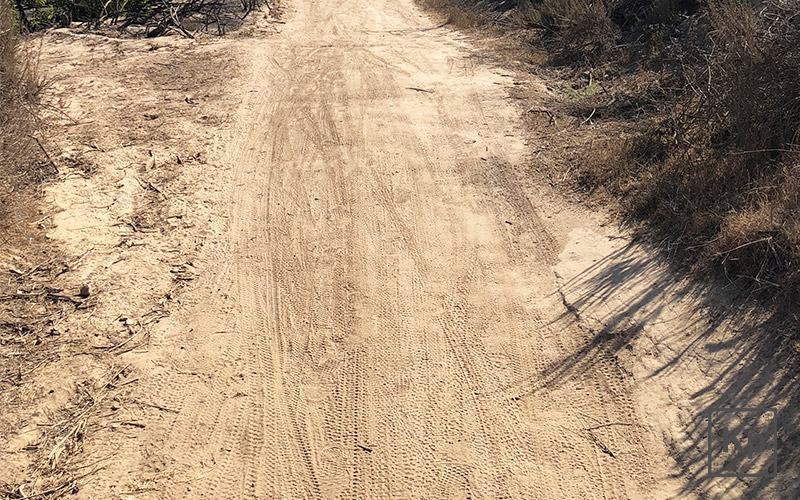 However, since none of my rigs have full suspension, I felt that there were a few inclines/declines that really challenged my bikes. Overall, I feel that the 4" tires were able to mimic the comfort of an 80mm fork suspension. It was definitely a huge improvement from my GenZe which also had a stiff fork.
Northrock XC00 2018 Quick Specs
Northrock bikes are made by Giant. Knowing that made me more confident about buying it despite their relatively lower price. It sports a hand-built 6061 all-aluminum alloy press-formed frame for durability and lighter weight. It also comes with a Shimano Altus 7-speed drivetrain for precise and consistent shifting performance. Tektro disc brakes are equipped for enhanced stopping and control.
Most importantly, the Kenda 26 x 4.0" fast-rolling tires devour obstacles and improve trail control. The tires are supported by lightweight alloy rims. This bike weighs around 32 lbs. The ride is closely comparable to an off-road truck. The added grip is easily noticeable. However, more contact means much louder noise and more friction which means slower speed. For its intended use, I'd say that the pros outweigh the cons. This may not have the best handling and speed efficiency but it'll take you to trails that you couldn't previously ride on. Besides, the speed issue is nothing that an e-bike conversion can't fix.
***2021 Update*** Costco hasn't been selling this model in store. You can still purchase it on their website. However, at this point, I would suggest checking out this similarly specced fat bike on Amazon with almost 2,000 4.5-star reviews.
E-Bike Conversion
Here is the list of what came in my conversion kit:
***2021 Update*** Here is the link to the conversion kit that's closest to what I had. This more current is actually better because it is from a reputable brand. This kit includes the rear hub for fat tire, controller, tube battery (make sure to select this and NOT rear pack!), e-brake, display, and everything else that you'd need for the conversion. https://amzn.to/3s8DgyN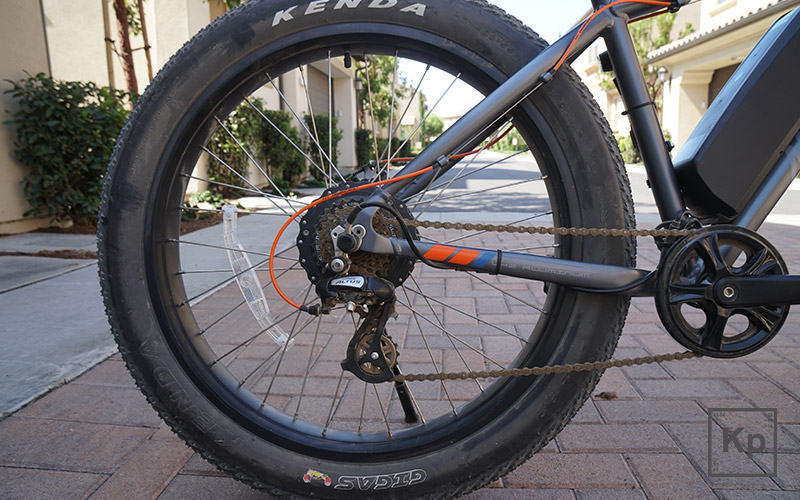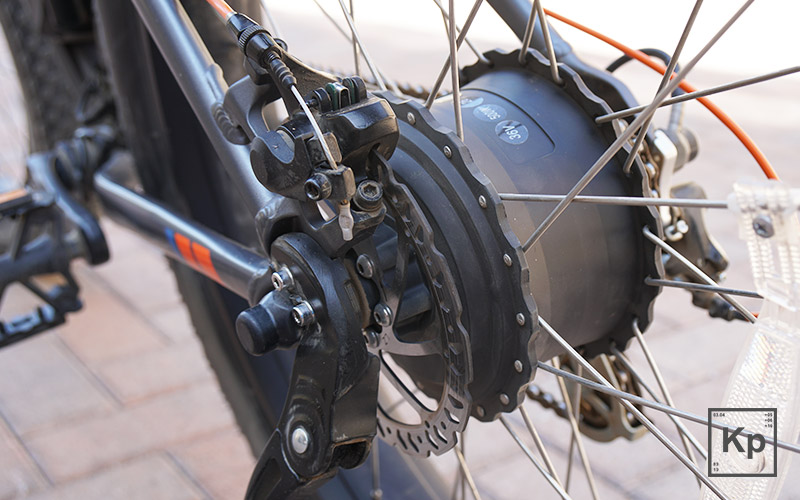 – 26in x 4in fat tire rear wheel with 500w geared hub motor.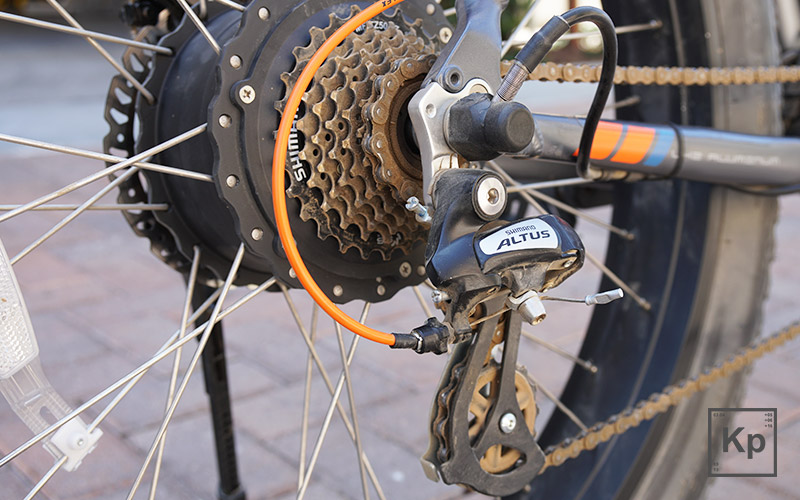 – 7-speed Shimano Cassette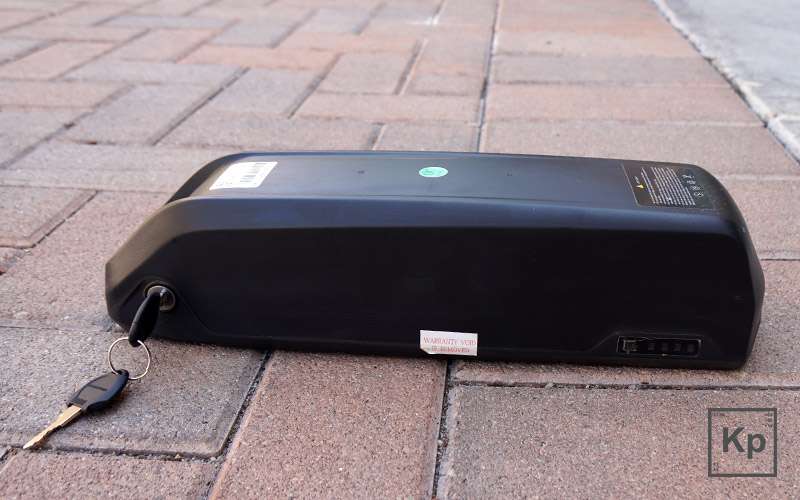 – 11.6Ah Samsung Cell Battery with Integrated 22amp Controller and 12 magnet PAS. The miles per full charge will vary depending on your riding habits just like your car's fuel efficiency. In my experience, I've ridden on full throttle on a pretty leveled paved route with barely any pedaling at all and it lasted for about 20+ miles. There are different pedal assist levels that can increase energy efficiency. Riding it on a lower pedal assist setting can increase the range to about 3 times without sacrificing comfort.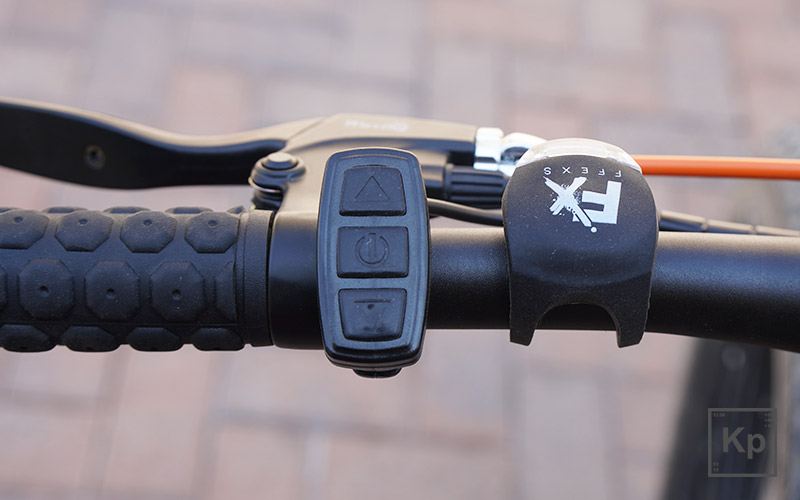 – Controller. This switch lets you navigate through the options on the LCD display such as odometer, pedal assist modes, and other settings.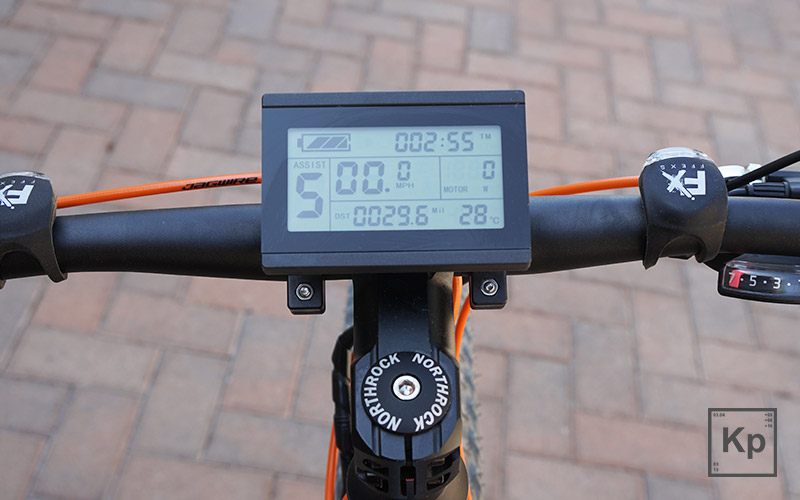 – LCD Display. Besides showing you the basics such as the battery life, pedal-assist mode, odometer, etc., one important piece of data that not all e-bikes show is the actual wattage that the motor is producing in real-time. I find this very useful when I'm riding long distances wherein making it back home with some juice left is crucial. With e-bikes especially with a thumb/twist throttle, it's easy to get spoiled by it and not pedal as much anymore. The motor is there to help you and you should help it too whenever you can. Otherwise, you run the risk of manually pedaling (or walking uphill) a 50-lb bike home.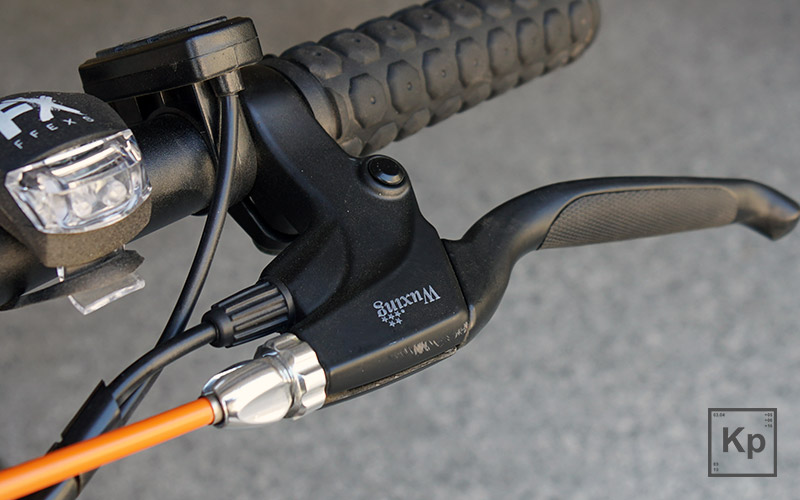 – E-Brake Levers. The original brake levers were replaced by these special e-brake levers. That extra cable shown in the photo above leads back to the controller. Pressing onto these e-brake levers will prevent the motor from accelerating.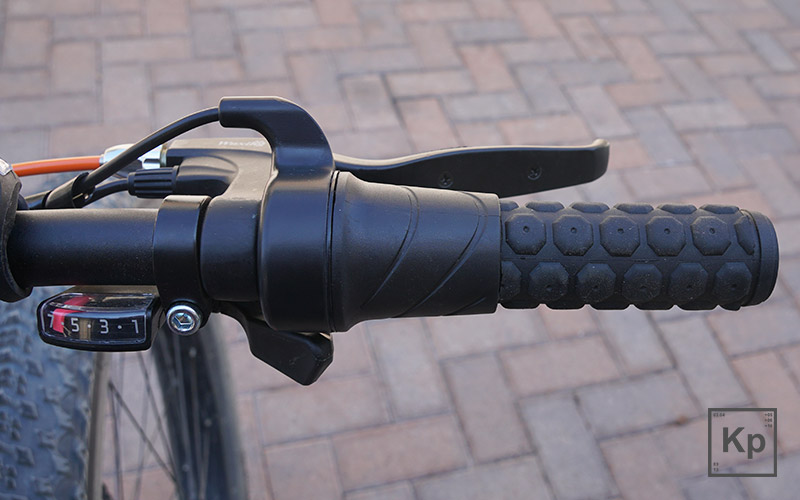 – Half Twist Throttle. Installing this required the existing handlebar grip to be cut. In this case, we're able to make it look seamless due to its material and overall style. After the conversion, the bike now weighs 50 lbs without the battery. The battery weighs around 6 lbs. So it still falls right within the most common e-bike weight range.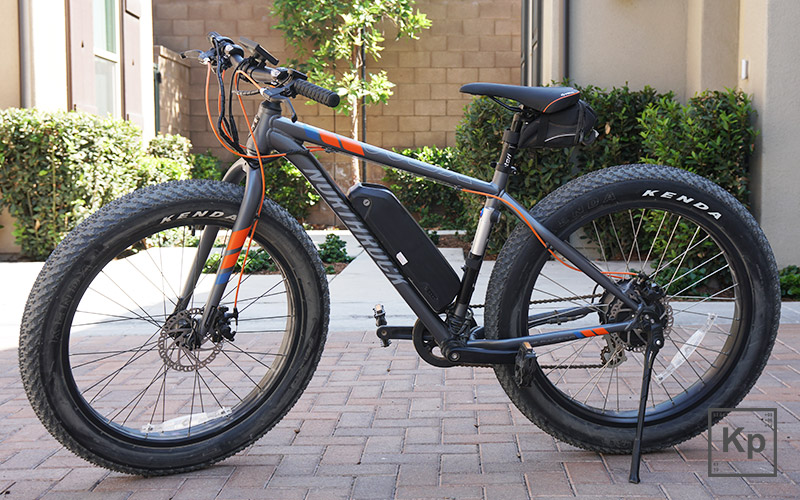 My Fat Tire Attachments
I always carry a portable pump with a built-in gauge with me. Adjusting your tire pressure 1-2 PSI up or down can make a noticeable difference in riding. Here are my suggested PSI based on my experience in Laguna Beach and Irvine easy-to-moderate trails: Regular paved: 10-12 PSI Light trail: 8-9 PSI Rocky trail: 6-7 PSI or even lower.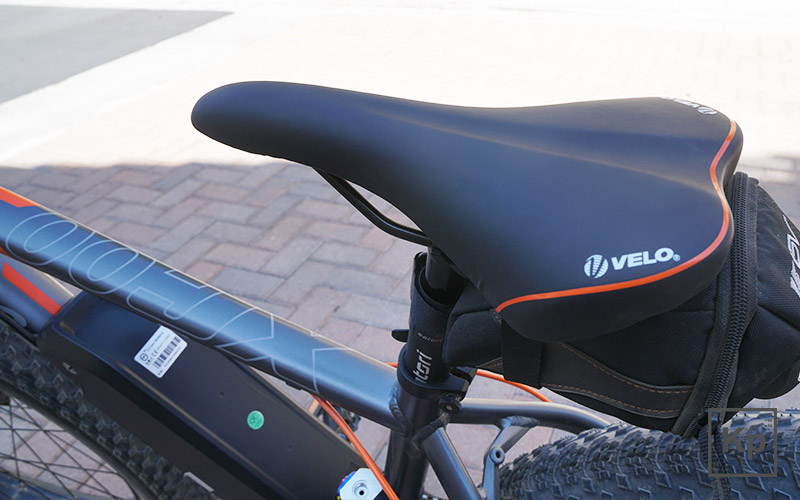 I particularly like this one because it looks more compact but is more spacious than it looks.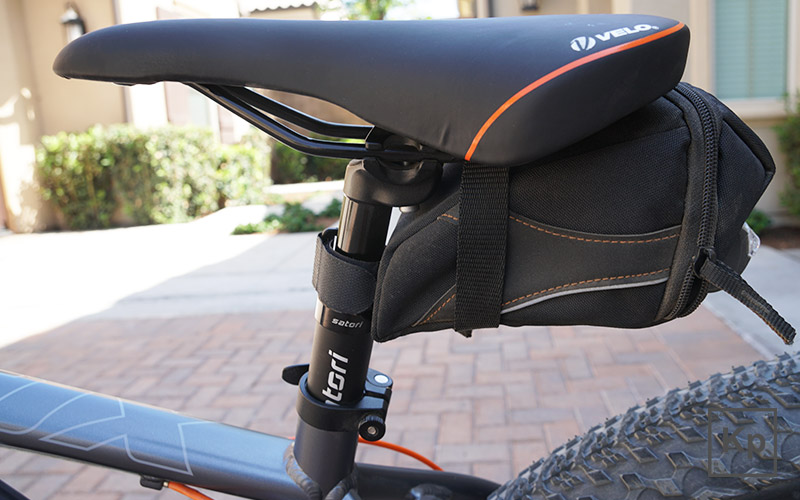 Combining this and the 4″ fat tires drastically softens the average bumps and dips. For just around $30, it is a must on any hardtail rigs.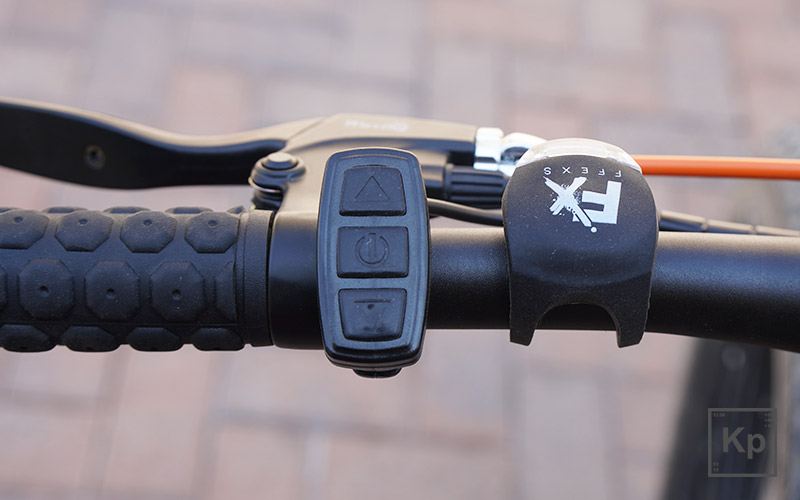 These lights are low-profile and inexpensive. They are by no means for night trail riding. They are more meant for you to be seen when commuting at night.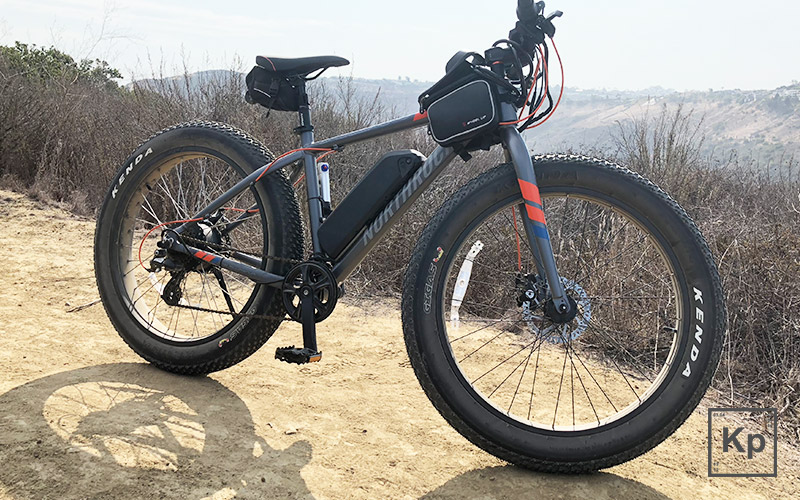 This comes with mini panniers for quick access items and a zipper-enclosed phone holder perfect for using it for navigation.