We came here during our stay at the Wailea Marriott Resort. Usually, you'd expect your typical resort food to be mediocre to above average at best, simply because you are stuck with them with no other establishments to choose from. The Humble Market Kitchin is quite an exception. The quality of their food and service is top notch! All staff members were very courteous and attentive. Our server and the manager were visible and accessible the whole time. There are some competition in the $$$ to $$$$ category restaurants outside the resort but HMK holds up very well.
Considering that it's a Roy Yamaguchi restaurant, our expectations were set really high but HMK didn't disappoint. It's important to note that their menu changes regularly. So some menu items that you may see on other posts might not be present when you go. But I can almost guarantee that you won't go wrong with any of their dishes. Their food was so exceptional that we had to come back a second time during our trip.
During our first visit, we had their Kiawe Smoked 14oz Ribeye Steak with Watercress Chimichurri and Seafood Carbonara with Scallops, King Crab, Fresh Fish, and Uni Lobster Sauce.
The steak was perfectly cooked Medium. I am by no means a steak connoisseur, but I eat different types of steaks regularly enough to know to appreciate it. The meat was marbled evenly so I had a lot of lean but juicy bites. The flavor was very well-infused into the meat that every bite was equally as good. I frequently eat at Morton's, Flemmings, Capital Grille, etc. but this little addition of the Watercress Chimichurri made HMK's steak extra memorable.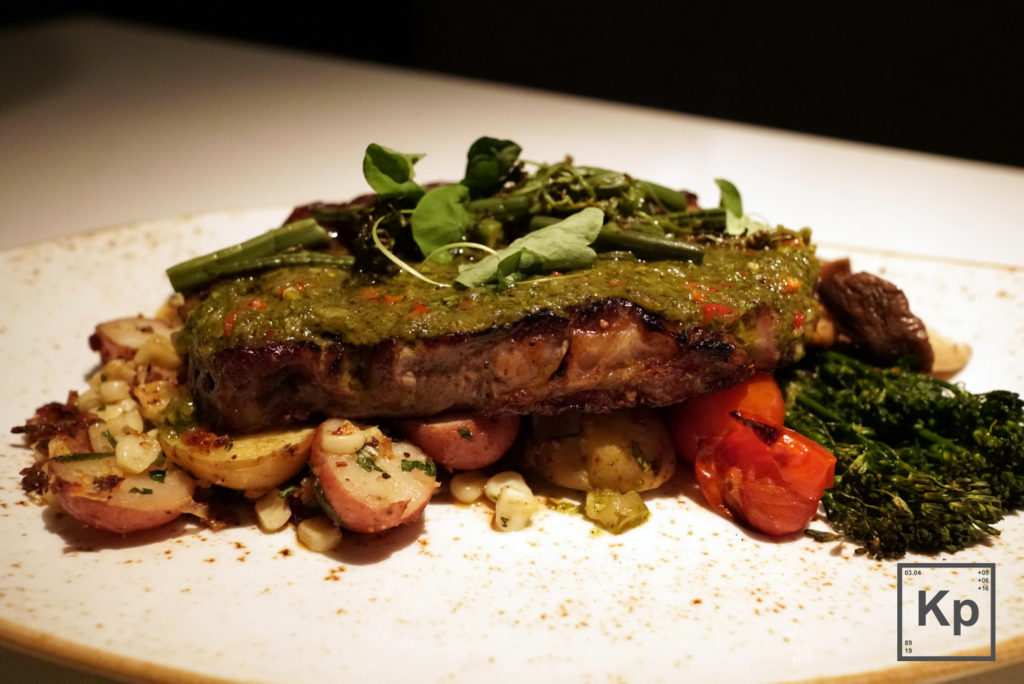 As simple as the menu item name "Seafood Carbonara" may sound, this is no ordinary Seafood Carbonara. I will repeat – this is the kind of Seafood Carbonara with Scallops, King Crab, Fresh Fish, and Uni Lobster Sauce all cooked to perfection at a Roy Yamaguchi restaurant. Every ingredient is cooked to their intended texture and softness. The uni lobster sauce coating the whole pasta plate had a rich flavor but not too overpowering to complement the shellfish pieces.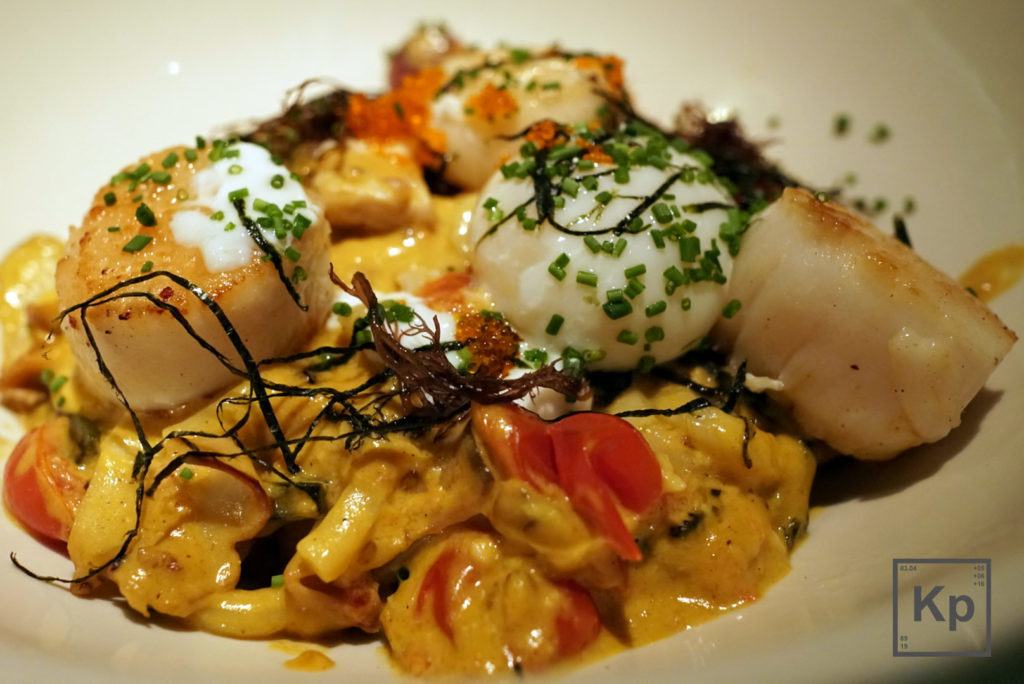 During our second visit, we had their Yamaguchi Style Ramen with Pork Belly, HMK Dumplings, Sous Vide Egg all in a big bowl of Rich Sesame Broth and Szechuan Spiced Baby Back Ribs with Mongolian Sauce.We were going to order the ramen during our first visit but we were warned by our server not to, since we were ordering the steak and pasta. The strength of the sesame soup base was so strong and aromatic that it would've easily overpowered the taste of our other dishes. We're glad we listened. First of all, this huge bowl of ramen can easily serve a party of 4 for a snack or appetizer. If you are a salt lover like me then I guarantee you that this will be a bowl to remember for a while. But if you are conservative with your salt intake then this might be a bit over the top.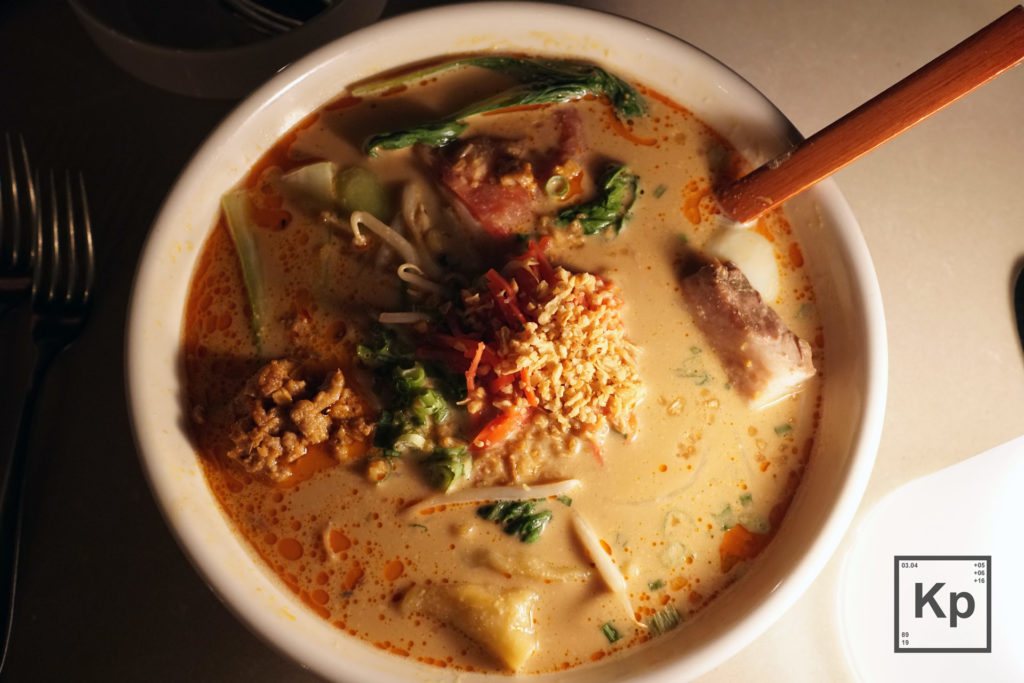 The Schezuan Baby Back Ribs rich tangy taste was very much enjoyed and didn't clash with the strong sesame soup base. The meat also easily came out of the bones and were evenly cooked from tip to tip.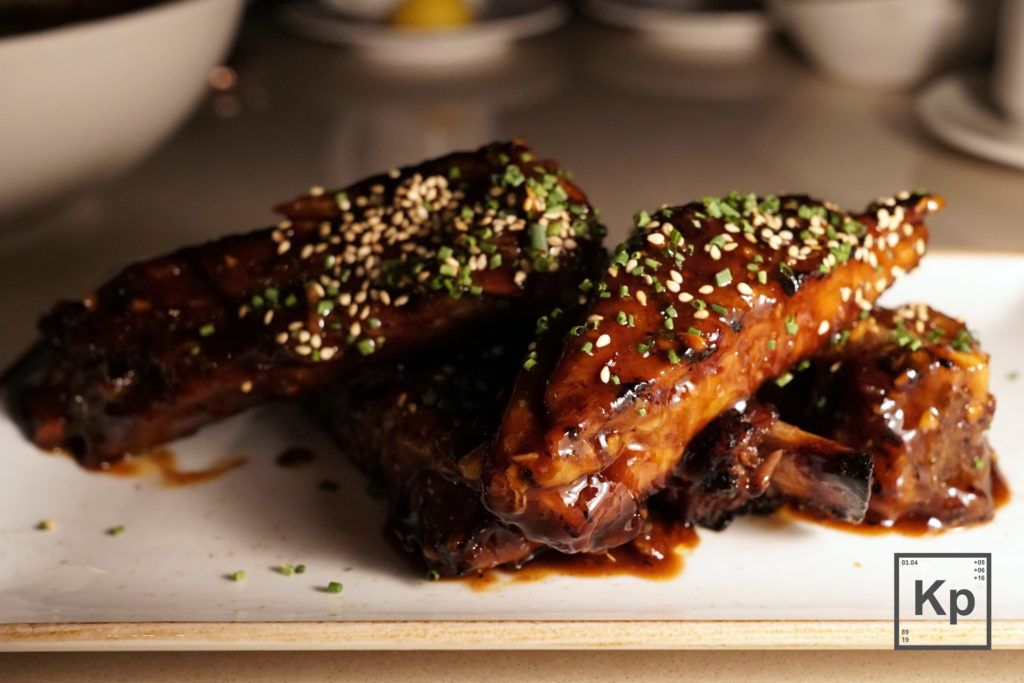 The Humble Market Kitchin is one of those gem restaurants that you'd wish they'd open a branch in a location near you. If they do, they will definitely bring in some serious competition to existing establishments of its caliber. We'd definitely hit up this place when we go visit Maui again.