As an avid bag collector, Pacsafe has always been on my radar for its lightweight, sleek design, durability, security, overall functionality, and versatility. I rarely see all of the above in one brand and that's why Pacsafe has always been one of my all-time favorites. Out of the Pacsafe Camsafe X series, the Camsafe X9 first caught my attention. I wear a sling bag daily everywhere I go. I always carry with me my wallet, a set of keys, Airpods, an 11″ iPad Pro, and a 10″ Grid-it that contains all the rest of my essentials. I immediately thought that the Camsafe X9 sling was going to be a perfect fit for me the moment I saw it, which I'll delve into shortly. After subconsciously rating it a 9/10 on the spot, I was subsequently curious about the rest of the X line. The Pacsafe Camsafe X17 and the X25 ended up being just as good in their larger form factors. I couldn't decide which one to get so I ended up getting all three. So here is my review a year later.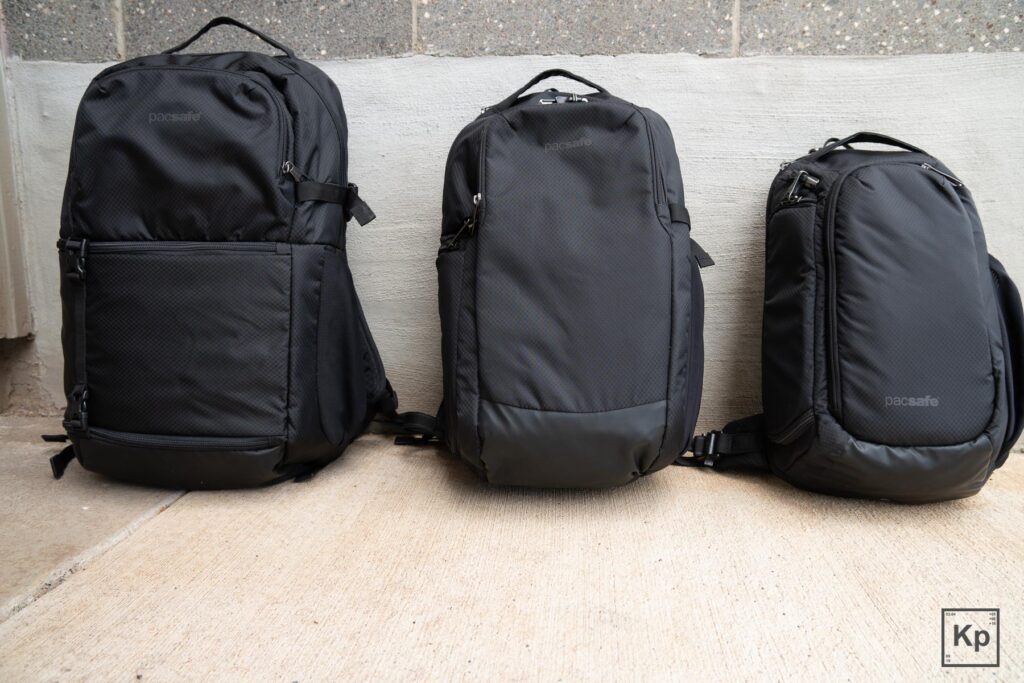 What I like about the Camsafe X Line
Let's first discuss the key highlights of what the Camsafe X line has to offer. As with the entire Pacsafe lineup, the Camsafe X line's designs come with security and function enclosed in a sleek yet subtle design that works with any setting. However, the Camsafe X line definitely feels more premium in every aspect.
Security
Every Pacsafe bag comes with an eXomesh Slashguard exterior and Carrysafe straps which means that both the linings of both the bag and its strap/s are meshed with steel wires inside to protect it from being cut. The Camsafe X Line offers a PopNLock security clip on one of the straps to allow you to securely strap your bag into an immovable object. The only real use case for me for this feature has been when I needed to hang it up on a canoe's overhead beam when I am space-constrained in the legroom. All Pacsafe bags also come standard with RFIDsafe pockets. In addition, their zippers usually come with some level of locking mechanism. In the case of the Camsafe X line, they come with Roobar Sport where it offers 2 points of security. Closing and opening this 2-point lock becomes muscle memory in no time. The zippers also come puncture-resistant.
Design and Function
Excellent space customization –  All 3 models come with a set of velcro-attached dividers allowing you to partition the interior to suit your needs. I like this flexibility because my use for my bags varies per trip.
40oz Tumbler Side Pocket – I always carry a 40oz tumbler on me. Even though I mentioned that the strap hook slots can carry it via a carabiner, I don't necessarily enjoy having a huge item swing side-to-side across my torso unless I really have no other options. The stretchable side pocket on all 3 Camsafe X sizes comfortably fits a 40oz tumbler.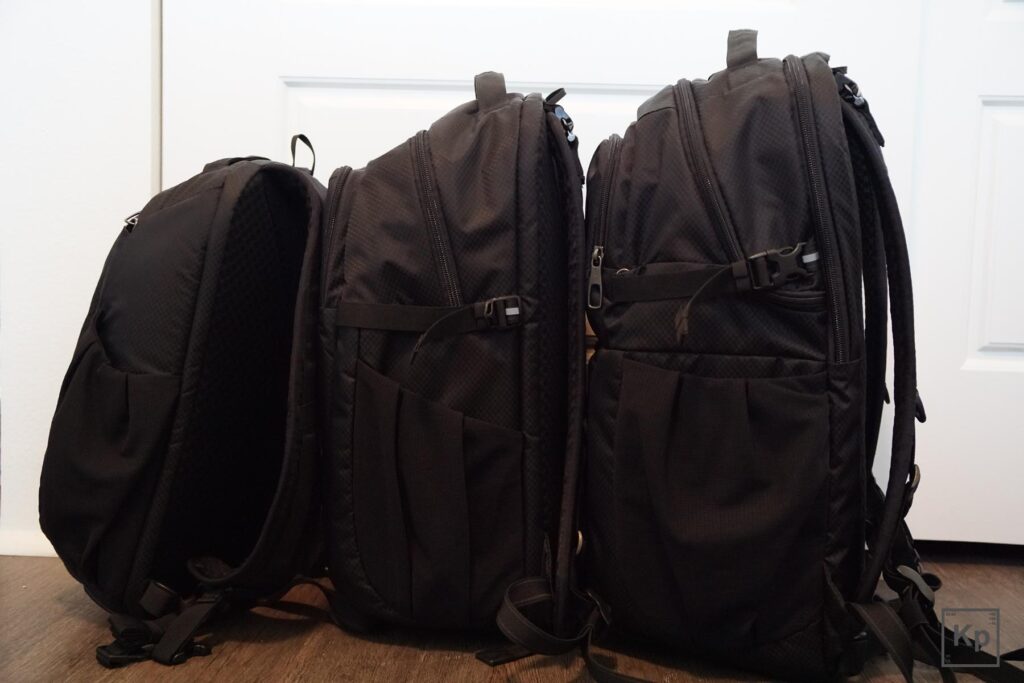 Strap with Hook Slots – Even though all 3 models come with the aforementioned dedicated slots for up to a 40oz tumbler and frequently accessed essentials like my phone and wallet, I still find myself using the strap hooks via carabiners. It's often either I happen to be using the dedicated slots for other items or I just feel more secure having these items strapped in front of me. I use them for attaching my wallet pouch or water tumbler. Here is the aluminum carabiner that I use.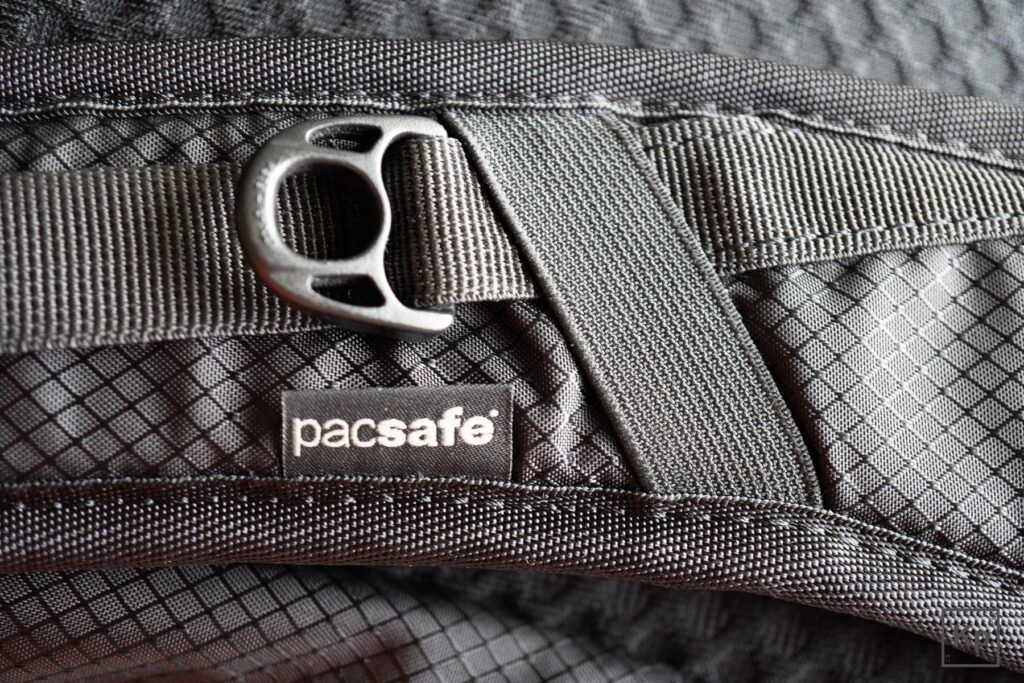 Built-in Rainguard – The Pacsafe Camsafe X comes with a hydrophobic exterior material that can withstand a decent amount of rain without getting water in. For extra peace of mind, all three models come with a built-in rain guard that pulls out at the bottom.
How Much Can Each Size Realistically Fit?
I thought it would be nice to share the varying list of items that I carry with each size. I try to go as compact as possible and go up in size as necessary, so I will format my list as such.
The Camsafe X9 is my default everyday bag. I am able to comfortably fit a standard size bi-fold wallet, a set of keys, and the following:
The Camsafe X17 is ideal for trips where I know exactly the gadgets that I'd need. This could mean light photography at work wherein a small laptop and a camera with 2 lenses will for sure suffice. Below are some of the items that I am able to comfortably fit in addition to what I pack with my Camsafe X9 above.
Lastly, the Camsafe X25 is ideal when I travel internationally wherein it's hard to predict what I'd need and it's best to just bring everything with me just in case. Below are some of the items that I am able to comfortably fit in addition to what I pack with my Camsafe X17 above.
MavicPro Drone Battery and Charger
Extra shirt or snacks if necessary
Downsides of the Camsafe X Line
Front pocket: On the Camsafe X9 and the X25, the front pockets were made too narrow for my liking. Especially on the Camsafe X9, I can really only fit my wallet comfortably. The Camsafe X17, on the other hand, has a front pocket that goes all the way down the height of the bag – so ample size there.
Camsafe X9 Specific: With Pacsafe's turn and lock security hooks, I feel that they could have utilized it to make the sling ambidextrous. Wearing the sling permanently on one side for days on end causes a slight imbalance in my posture over time.
Camsafe X17 & X25 Specific: I feel that the rear laptop compartment could use a little bit more padding at the bottom. Both my laptops come with rugged cases as failover so it's not a critical concern in my case. However, having the laptop compartment share the same amount of padding as the rest of the interior would have made it more worry-free.
Overall Conclusion
I highly recommend the Pacsafe Camsafe X line. All the Pacsafe Camsafe X9, X17, and X25 combine being secure, lightweight, and versatile in a design that looks good with any outfit and in any setting. The X line's sizes range from a daily sling/camera bag all the way to one that can fit a 17″ laptop, a Mavic Pro sized drone with its essential accessories plus a DSLR camera with a few lenses. I have traveled to many countries with all three models. It's hard for me to come up with an alternative line that offers all of the above.